ALL TOGETHER NOW!
Music Theatre International has put together this musical revue with some of the best songs from the best musicals, and has graciously offered it royalty-free to local theatres around the world for a limited time to use as a fund-raiser to help local theatre to stay alive in the midst of a global pandemic. We at Boone Community Theatre are excited to be a part of this event to raise funds for our upcoming permanent home.
---
One performance only!
Saturday, November 13th at 7:00 pm
Location: First Free Church, 1407 Kate Shelley Drive, Boone IA
Tickets
All tickets are $10 and will be available at the door, or in advance at the theatre office (705 Story Street) weeknights from 6:30 to 8:30.
The event will also feature a bake sale / craft sale, as well as the option to dedicate a song (see below).
ALL TOGETHER NOW!
is presented through special arrangement with Music Theatre International (MTI)
All authorized performance materials are also supplied by MTI.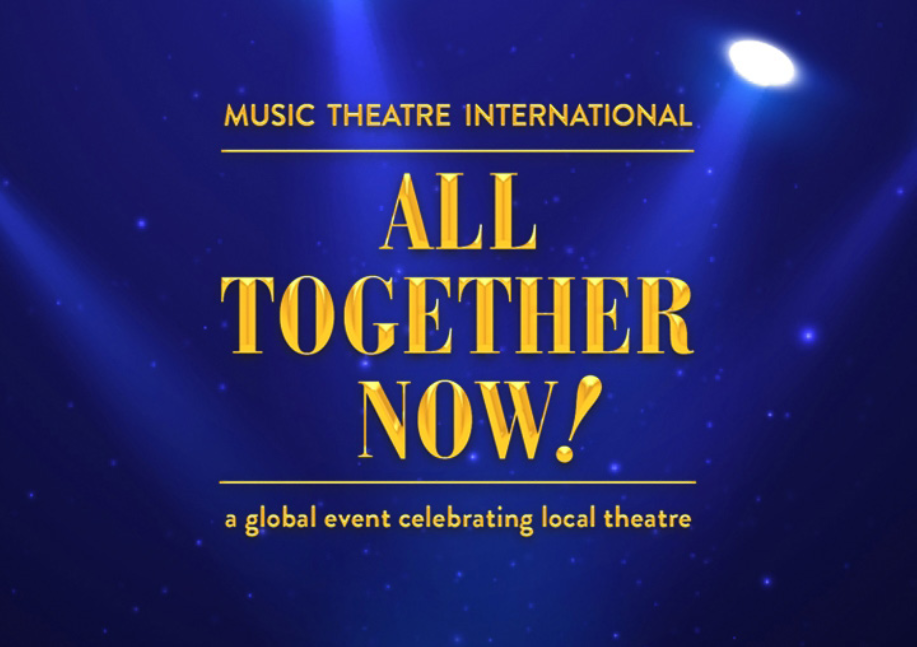 Featuring Songs by (in alphabetical order):
Lynn Ahrens • Kristen Anderson-Lopez • Benny Andersson • Billie Joe Armstrong • Howard Ashman • Sara Bareilles • Lionel Bart • Jerry Bock • Leslie Bricusse • Jason Robert Brown • Johnny Burke • Martin Charnin • Mindi Dickstein • Anthony Drewe • Jack Feldman • Stephen Flaherty • Matthew Gerrard • Zina Goldrich • Green Day • Sheldon Harnick • David Hein • Marcy Heisler • Jason Howland • Herbert Kretzmer • Jonathan Larson • Alan Jay Lerner • Frank Loesser • Frederick Loewe • Robert Lopez • Alan Menken • Tim Minchin • Robbie Nevil • Anthony Newley • Benj Pasek • Justin Paul • Tim Rice • Irene Sankoff • Dick Scanlan • Claude-Michel Schönberg • Stephen Schwartz • Marc Shaiman • Richard M. Sherman • Robert B. Sherman • Glenn Slater • Stephen Sondheim • George Stiles • Charles Strouse • Jeanine Tesori • Björn Ulvaeus • Jimmy Van Heusen • Frank Wildhorn • Scott Wittman
---
Will you help make this fundraiser a success?
Boone Community Theatre has set a $2000 goal for the event. This amount will cover the cost of rented performance spaces for the next three shows. It will make a decided impact on a budget stretched by last year's closures.
Here's how you can help:
Purchase tickets: $10 will provide an entertaining evening of Broadway music performed by 25 local youth and adults. Tickets are available at the door or in advance at 705 Story St from 6:30 – 8:30 weeknights. Text or leave a voicemail with the theatre at (515) 303-0393 for more information.
Indulge yourself: Deanna Melhus with Dee's Treats is donating cakes and cookies for attendees who upgrade their ticket to enjoy dessert during the show.
Dedicate a song: $25 will purchase space in the event program to dedicate a song to a friend, co-worker or loved one. Dedications will also be announced verbally prior to the song's performance (using first names only.) See the song list and dedication form. Nov. 5 deadline to get into the program.
Contribute to a silent auction: Themed gift baskets and centerpieces will be displayed at the event with bids due by the end of intermission. Those interested in donating items towards the silent auction will have their business or name included in the program and business card displayed near the item. Some potential gift basket themes are Thanksgiving decor, college sports, spa or beauty, auto care, movie night, grilling, or pampered pet. Donation commitments are due by Nov. 5 to be included in the program. Perishable contributions may be picked up or delivered closer to the Nov. 13 event date. Please contact BCT by text or voice mail at (515) 303-0393 to make arrangements.
Match Funds: It is always motivational to see that someone will match donations at an event. A collection basket and debit/credit card processing will be available for those who would like to contribute above and beyond their ticket. If you would like to set a matching amount to encourage contributions during the first or second half of the evening, please contact us to set dollar amounts. Example: Business X will match up to $500 in donations made before intermission. Business ABC will match the first table grouping to collaboratively donate $250.
Thank you for your support of community live theatre! Your attendance and donations will make a difference, and through "All Together Now" we can keep the stage lights bright.